Services
---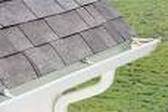 Eavestrough
Assured Eavestroughing Ltd. manufactures 5" seamless aluminum eavestrough right on-site. We use 2.5" square downpipe with a hinged flip up extention in a wide variety of colors to choose from. We slope for proper drainage and attach the trough, with neoprene hangers, to the fascia boards. This system is designed to control water flow around your home before it can cause damage to a homes foundation and basement. Seamless eavestrough systems greatly reduces the possibility of leaks.
---

Fascia
Fascia does more than just add an aesthetically pleasing look to a homes exterior. It covers the truss tail ends, where the
eavestrough is attached and along the gables. This protects the wood beneath from moisture and the suns UV rays.
---

Alu-rex Gutter Leaf Guard
Alu-rex gutter guard stops leaves and debris from clogging your eavestrough and downpipes. Gutter guard will ensure your drainage is at
its maximum and will eliminate the messy job of cleaning your gutters or having to get them cleaned. Gutter guard is highly recommended in areas with mature trees to keep gutters clean.


---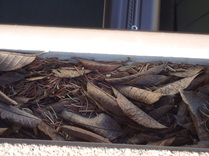 Gutter Cleaning
Eavestrough and downpipes are designed to direct water away from your home. To protect your home, gutter cleaning should be done to ensure gutters and downpipes are clear and free from debris. Gutter blockages can lead to leaking, overflowing, water marks, iced paths and eventually causing damage to a homes fascia boards and foundation.
---